Zephyr Cooling Technologies was established in 2009 on Guam and has been responsible for providing outstanding air conditioning and refrigeration service since then. Our regular customers particularly value our honesty and reasonable prices. We are confident that you will feel the same way when you find that comfort goes well beyond cooling at Zephyr Cooling Technologies. DEDICATED to providing Guam with the most trustworthy and reliable air conditioning and refrigeration services available.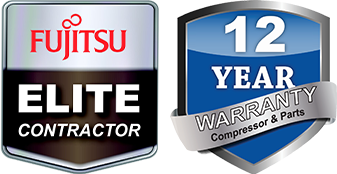 Zephyr Cooling Technologies is also proud to be Guam's first Fujitsu Elite Contractor. Fujitsu Elite Contractors are distinguished from other Fujitsu contractors because of the high level of training they've earned and the support and service they provide to their customers. Learn 9 reasons to choose Fujitsu.
As a Fujitsu Elite Contractor, we have accepted the following program requirements:

- Agree to Fujitsu's Code of Conduct
- Use best efforts in resolving customer concerns
- Be diligent and professional in handling all field service related issues
- Meet state and local compliance and licensing requirements
- Meet and maintain training requirements
- Maintain current contact information on Fujitsu website
- Follow up with customers in a timely manner
Zephyr Cooling Technologies is also able to offer up to a 12-Year Parts and Compressor Manufacturers Warranty for residents of Guam as a Fujitsu Elite Contractor. Contact us to learn more!